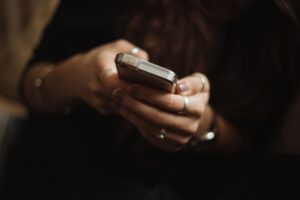 To better understand the finer points of social media marketing, I'm taking a class to learn how to better optimize my writing business. Our second blog post assignment is to read and discuss the case study of a breast cancer meme that went viral in 2010.
One app does everything! Weixin (pronounced "way-shin") is a Chinese social networking app launched in 2011 that offers a wide range of functions including hailing a cab, sharing images and text messages, connecting with friends, and sending money Weixin does it all, and more.
Once downloaded, users don't even need to type Chinese characters because the app will translate recorded voice messages. Online shopping is a breeze because virtual stores abound. And, if a user wants to open their own store, it only takes a minute to set it up.
Comparable to having Facebook, Instagram, Twitter, Snapchat, and eBay this all-in-one-app encourages users to use Weixin for everything they need to do online. After all, when one can get everything from one "store" why shop anywhere else?
Why is it so popular? The creators of Weixin figured out the needs, wants, tastes, interests, and habits of their intended audience (mobile phone users). They created an app that successfully integrated all the most popular social media platforms. Users made it part of their everyday routine and didn't need to think twice about going somewhere else to purchase products or interact with friends and family.
Plus, the app is FREE! Since the app is free to download, there is virtually no barrier to entry (except one would need a mobile device to access it). Businesses caught on that they would have unlimited customers and customers realized they had an all-in-one-access to anything they needed. A win-win for everyone.
Fun Campaign Creates Excitement In 2014, just before the Chinese New Year, Weixin started a Red Envelope Campaign, better known as "Qiang Hongbao" where users could link their Weixin account to their bank account and send friends and family monetary gifts which were part of traditional Chinese culture. Then, Weixin gave two choices: a specific amount to one person or a random amount distributed among a group. For the second choice, users designated a total to be randomly distributed among a chosen set of recipients. The excitement grew because one person might receive more or less than the others, but no one knew how it would end up. The result? Close to five million people took part in the campaign that sent over twenty million cash-filled virtual Red Envelopes.
Though most apps target one specific group of users, Weixin targets all users with one app. And, as technology grows, one can only imagine what features the app will offer in the future.