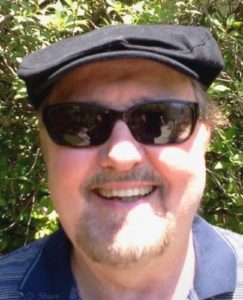 (Originally posted February 7, 2018)
Last June, our community lost a very talented writer, musician, and all-around amazing guy, Dan Mc Guire. After his passing, our Writers of Kern (WOK) Board wanted to do something in his memory. Because he was an avid blogger (over 700+ posts), we renamed our A-Z Blog Challenge to The Dan McGuire Blog Challenge to honor our friend and fellow Board member. I, along with many others, took up the challenge to post 26 times over a 13-week period, starting this week.
As I pondered my first post, I decided to write about Dan and his friendship with my son, Matt. As I mentioned, Dan was not only a writer, but a very talented musician. My son is also a musician, and each time Dan came over to attend a WOK Board meeting, Matt asked if they could jam together. While timing was not always right for either of them, they managed to liven up the music room a few times as Dan sang and tickled the ivories of our old piano, while Matt accompanied him on drums. I sat in the front room and closed my eyes, listening to their slow and soothing cool jazz.
Matt treasured those times with Dan and looked forward to talking and playing music with him. After Dan passed, Matt shared a recording of one of those jam sessions. A special memory of two musicians doing what they loved best. And, while our friend is gone, rare, impromptu recordings like this bring Dan back, if not for just a few minutes again.
Before you go, take a few moments and listen to Dan and Matt.
Dan, thanks for the memories. You are truly missed.
If you have a special memory of Dan, please share in the comments.