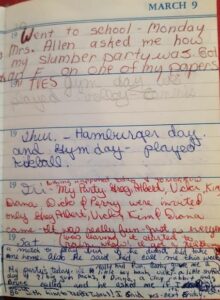 Snippets from my five-year diary.
March 9.
*1970 (age 12): Went to school – Monday. Mrs Allen asked me how my slumber party was. Got an "F" on one of my papers.
Mrs Allen was my 6th-grade teacher. She was awesome and always cared about her students. Getting an "F" on a paper. Hmmm. I have no idea what subject, hopefully, it wasn't English!
*1971 (age 13): Tues. Gym day. We played volley-tennis.
With attending Catholic school, we only had specific days for gym. I think it was twice a week on Tuesdays and Thursdays.
*1972 (age 14): Thur. Hamburger day. And gym day. Played kickball.
And then when gym day and hamburger day fell on the same day – it was a big deal. Kickball. I didn't care for it. I couldn't run fast enough and I hated kicking the ball.
*1973 (age 15): Fri. Nothing happened today & tomorrow My party. Greg, Albert, Vicki, Kim, Diana, Dick, and Perry were invited. Only Greg, Albert, Vicki, Kim & Diana came. It was really fun. Just as everyone was leaving it started to rain. Whew! I got a Neil Diamond tape from Greg & Albert. A statue (Ziggy), a rock thing, and peas from Vicki. Stationery from Kim and a t-shirt from Diana. Really had fun.
This entry took up two days. Although the party was technically on March 10, I saved the place and wrote about it the next day. I was (and still am) an avid Neil Diamond fan. I still have the Ziggy statue and the tape.
To explain the peas from Vicki. During Mass, there's a part where we all had to turn, shake hands, and wish each other "Peace be with you." Well, Vicki and I had the great idea to wish each other "Peas be with you." Yeah, we thought it was so funny. It still is when I think about it.
*1974 (age 16): Sat. My party's today. We really had fun. Cathy gave me a little boy bank, Vicki- a little stuffed dog & 7 big gum packs, & Diana, a clay rabbit. Had a big 6' sandwich. Bruce called and asked me if I would go with him to TeePee Talent! I said yes – it's next Friday.
This was a difficult one to share. Many (actually most) of the people mentioned in these posts are friends on Facebook. And sharing personal details of a first date isn't easy. It's almost like I'm back in school, nervous what my friends might think of me. This was an important event in my life. Being asked to a dance.
~~~
Note to self: All of these memories are important. And someday when you decide to share them during a Blog Challenge, it will be okay. Those friends and events helped you become the person you see in the mirror today.